This post shows students and new users how to factory reset the local group policy editor settings to the default in Windows 11.
Windows system's local group policy editor (gpedit.msc) is a Microsoft Management Console (MMC) snap-in that is available in Windows, including Windows 11 where users can manage all Computer Configuration and User Configuration local settings to control how Windows functions, and enable or disable features.
In a centralized environment, the Computer Configuration container settings apply to computer, regardless of who logs on to the system. Settings in the User Configuration container apply to users, regardless of which computer they log on to.
Sometime we make mistakes and can set the incorrect settings in the policy editor. And because the group policy editor has thousands of individual settings, it can be difficult to go through all configuration settings and find the specific change that was configured incorrectly. In some some cases, sometimes it's just ok to reset all the settings to their default state and start over.
The new Windows 11, when available to everyone, will come with many new features and enhancements that will work great for some while adding some learning challenges for others. Some things and settings have changed so much that folks will have to learn new ways to learn manage Windows.
When Windows is available and you find yourself in situations where you need to reset its GPO editor, the steps below should come in handy. Also, if you're a student or new user and you want to learn how to use Windows, the easiest place to start is Windows 11. Windows 11 is a major release of the Windows NT operating system developed by Microsoft. Windows 11 is the successor to Windows 10 and it's expected to be released later this year.
To get started resetting Windows 11 local group policy editor, follow the steps below:
How to factory reset Windows 11 local group policy editor settings
When you want to reset all the system's settings in the local group policy editor, use the steps below. First thing, you must be logged on as a administrator or your account must be member of the administrators group.
When you sign in, open Windows Command Prompt as administrator. Click on Start and use the search box to search for Command Prompt. Then select it from the relevant search result as highlighted below.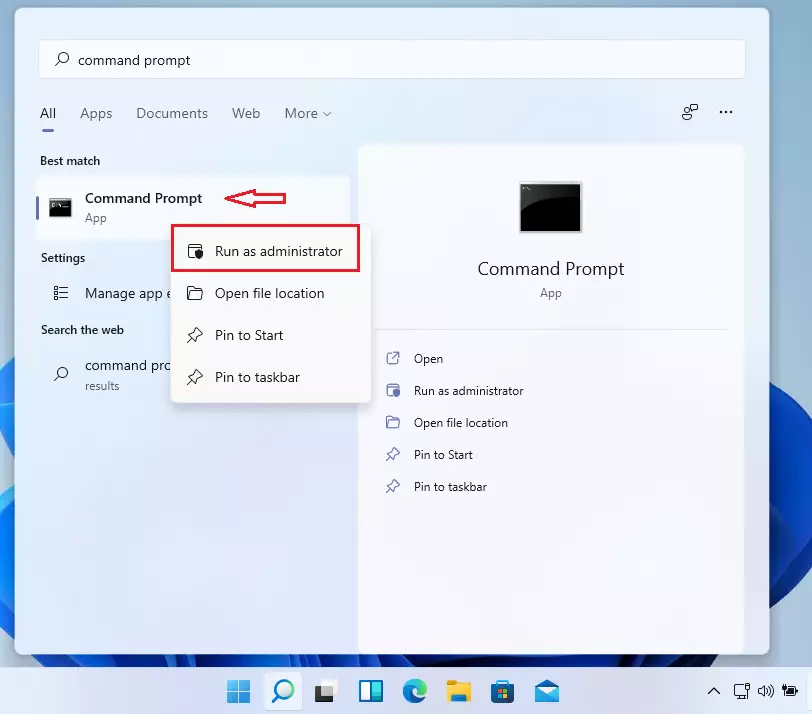 When the Command Prompt app opens, copy and paste the lines below and press Enter.
RD /S /Q "%windir%\System32\GroupPolicyUsers"
RD /S /Q "%windir%\System32\GroupPolicy"
gpupdate /force
That will reset the local group policy editor in Windows 11. Some most cases, settings are applied correctly when you reboot Windows. So go ahead and restart your Windows computer for all the settings to fully be applied.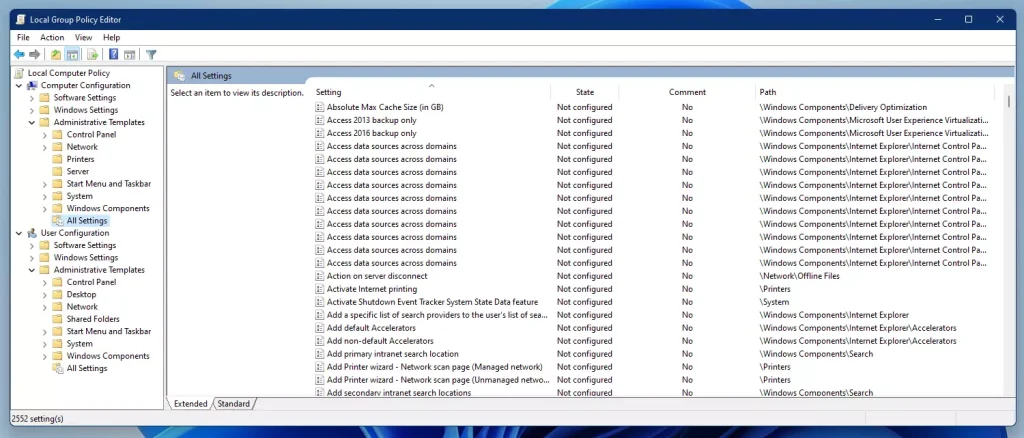 For some Windows 11 users, group policy editor might not be available. I believe, Window group policy editor is not available on Windows Home Editions.
It is available on Windows Pro, Enterprise and Education editions.
If you run the command and it returns with a message that the system cannot find the file specified, then then it means there are no changes in your system's group policy editor settings or you're using Windows Home Edition.
The system cannot find the file specified.
Whenever you make changes to the GPO, the relevant file should be created.
That's should do it!
Conclusion:
This post showed you how to reset Windows 11 local group policy editor. If you find any error above, please use the comment form below to report.