This post shows students and new users how to turn on or enable BitLocker drive encryption when using Windows 11 to protect their sensitive files and data.
One thing you can do with Windows 11 uses its built-in BitLocker drive encryption to encrypt your hard disk drive to protect your data in case it is lost or stolen.
BitLocker helps protect your data on your computer so only authorized users have access to it. Access will be denied if someone tries to access your BitLocker-enabled computer without authentication.
Note that BitLocker isn't available on Windows 11 Home edition.
Also, when you're a student and new user and want to learn how to use Windows, the easiest place to start is Windows 11.
Windows 11 is a major release of the Windows NT operating system developed by Microsoft. Windows 11 is the successor to Windows 10 and it's expected to be released later this year.
When you're ready to learn how to quickly and easily turn on BitLocker, follow the steps below:
Turn on the Device Encryption
Sign in to Windows with an administrator account (you may have to sign out and back in to switch accounts) if you're not currently signed in as an administrator.
Also, a Trusted Platform Module (TPM) chip is now required to use BitLocker drive encryption. Without a TPM chip in your computer, you may not be able to use BitLocker without a workaround.
If your computer has a TPM chip, continue below. If your PC doesn't have a TPM, continue below. We'll show you a workaround to get BitLocker installed for you.
Windows 11 has a centralized location for the majority of its settings. Everything can be done from system configurations to creating new users and updating Windows from its System Settings pane.
To get to System Settings, you can use the Windows key + I shortcut or click on Start ==> Settings as shown in the image below: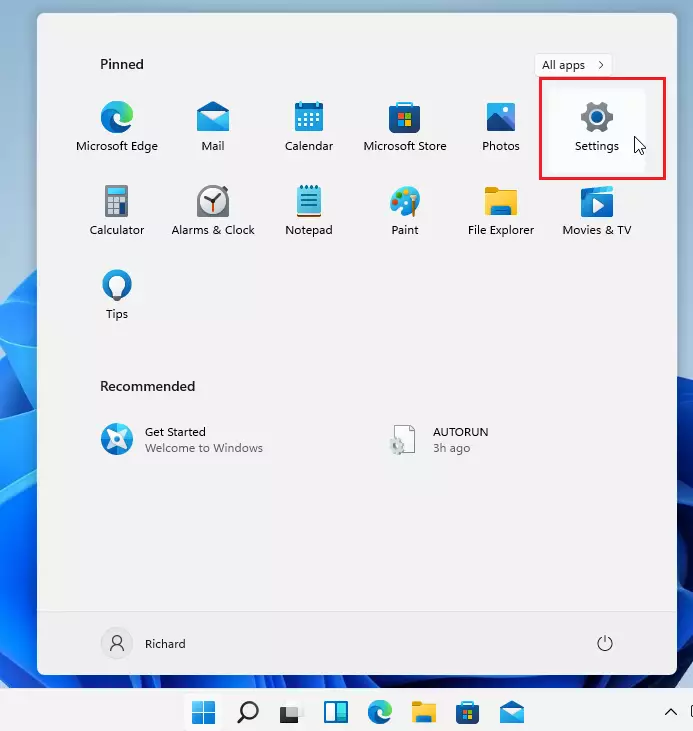 Alternatively, you can use the search box on the taskbar and search for Settings. Then select to open it.
Windows Settings pane should look similar to the image below. In Windows Settings, click Privacy & Security, then select Drive encryption on the right pane of your screen shown in the image below.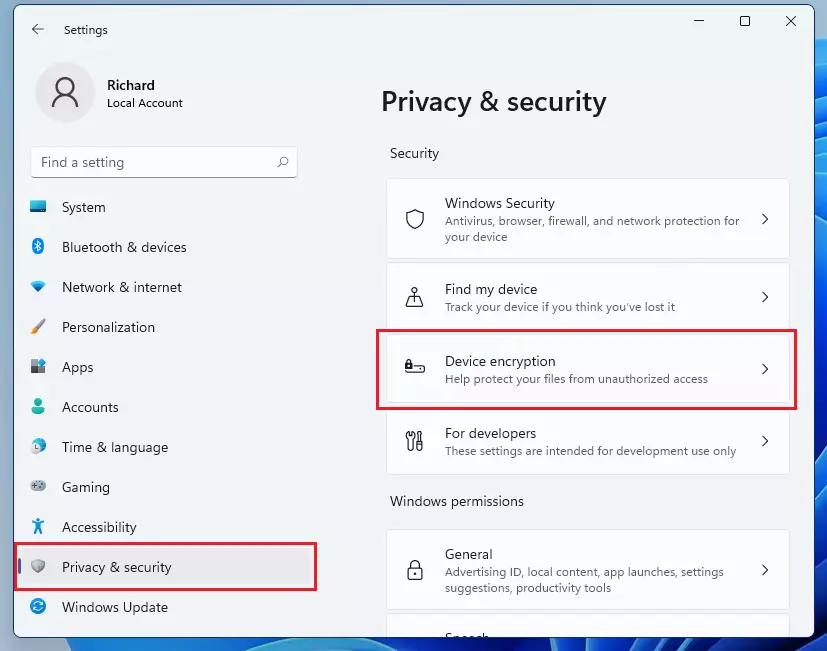 If you see the message "Device encryption isn't available for this device", then the TPM chip isn't available for your device and you won't be able to use BitLocker without a workaround we'll show you below.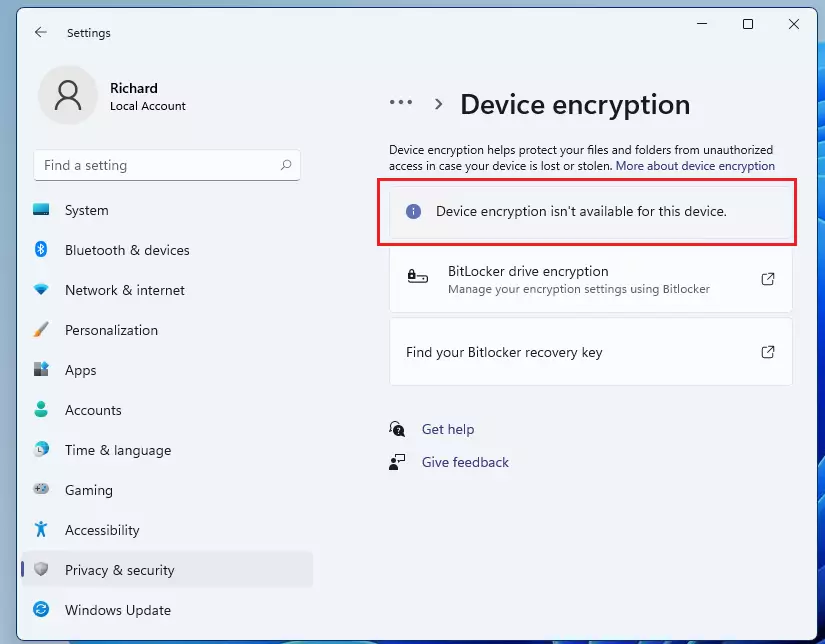 If you do not see the highlighted message above, then simply click on the BitLocker drive encryption link in the image above to start encrypting your drive.
Use Standard Encryption
If your computer isn't compatible with Windows device encryption, you may be able to use standard BitLocker encryption.
Since TPM is required in Windows 11, use this workaround to get around that requirement.
Click on Start, begin typing Run, or use Windows search and search for Run. Then open the Run app.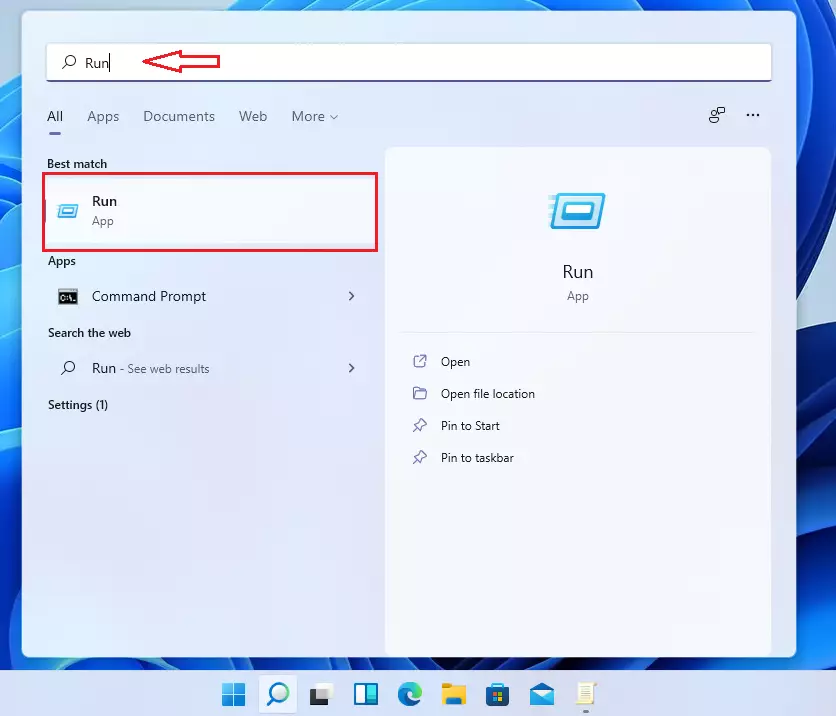 When the Run app opens, type the command below in the box and press Enter.
gpedit.msc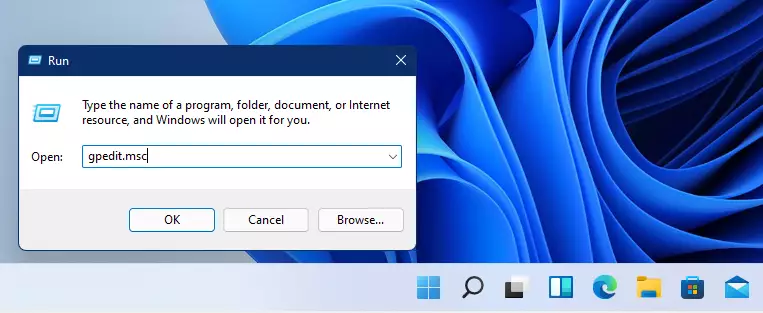 When the Group Policy Editor opens, navigate to the path below:
Local Computer Policy > Computer Configuration > Administrative Templates > Windows Components > BitLocker Drive Encryption > Operating System Drives
Then open the open setting "Require additional authentication at startup" highlighted.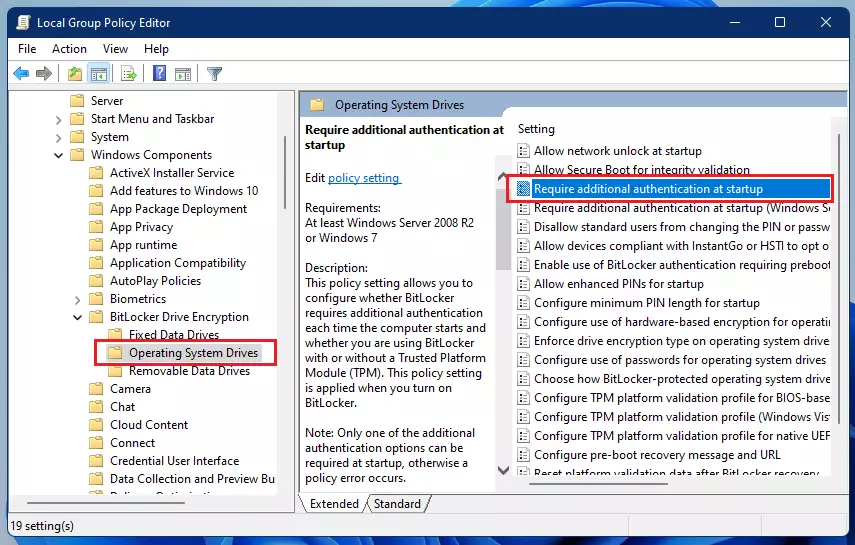 Then select the box next to Enabled to enable and check the box to Allow BitLocker without compatible TPM (requires a password or a startup key on a USB flash drive).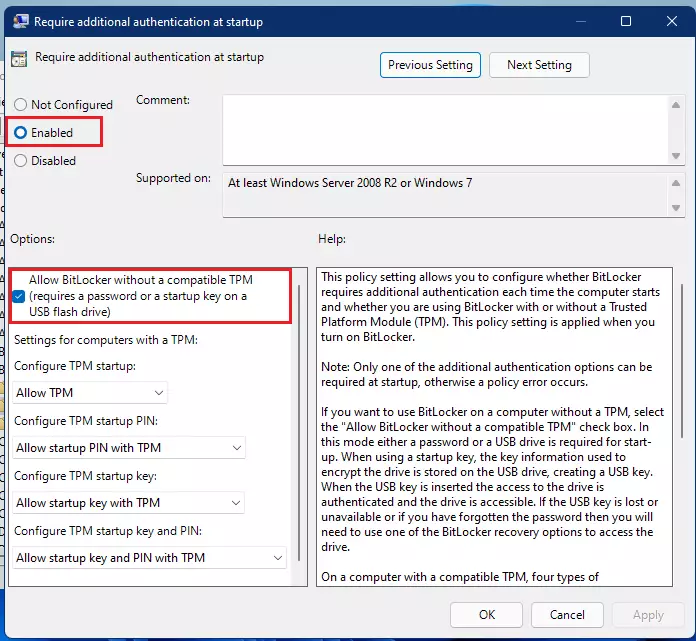 Exit and you're ready to use BitLocker without the TPM module.
Now continue where we left off above, and go to System Settings –> Privacy & security –> Drive encryption.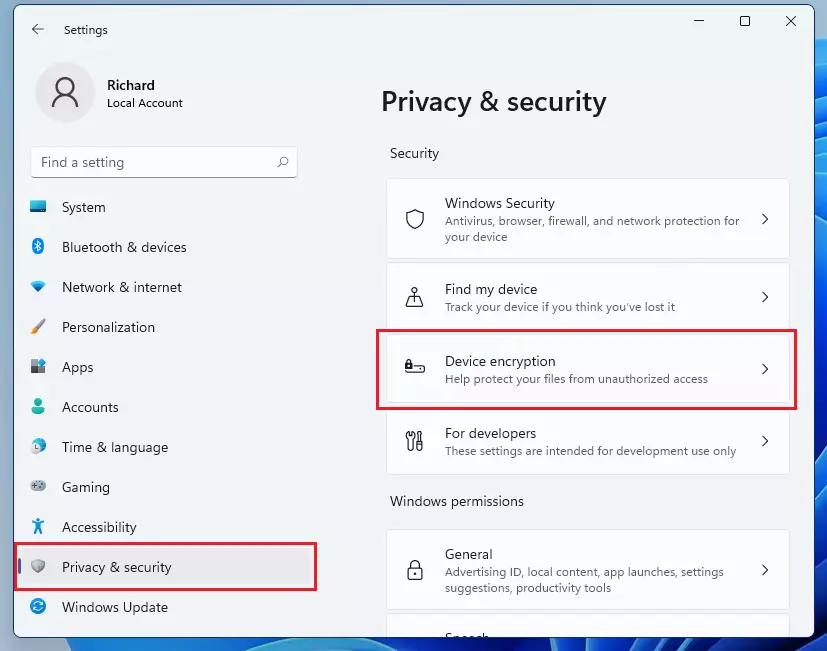 On the Drive encryption settings page, click on BitLocker drive encryption.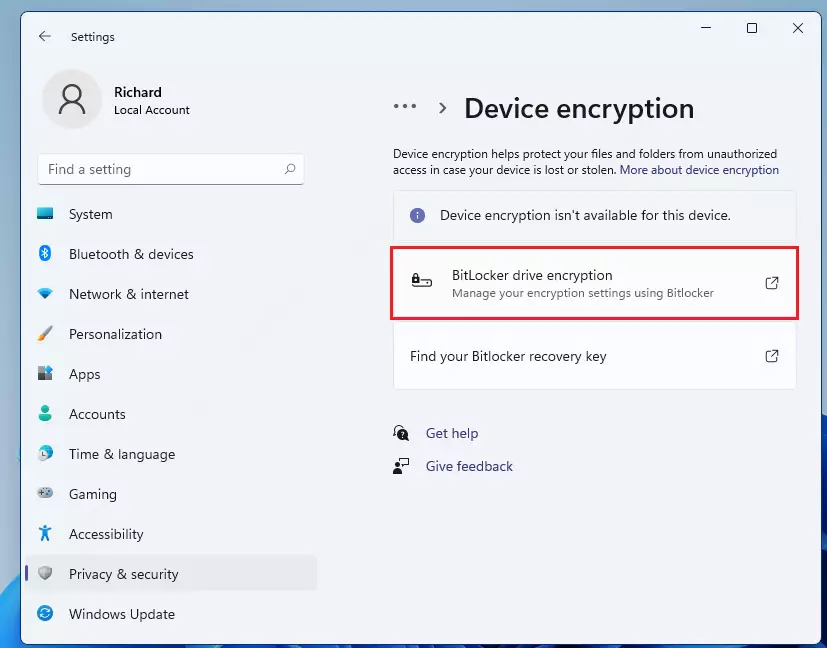 Next, click on the link to Turn on BitLocker as highlighted in the image below.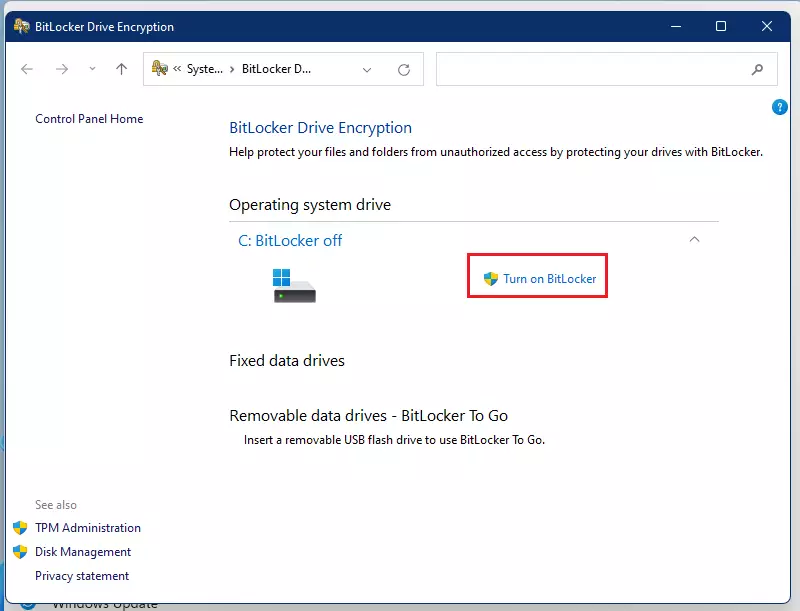 If you don't have a TPM module, you'll be prompted to insert a USB flash drive or enter a password each time you boot up the computer.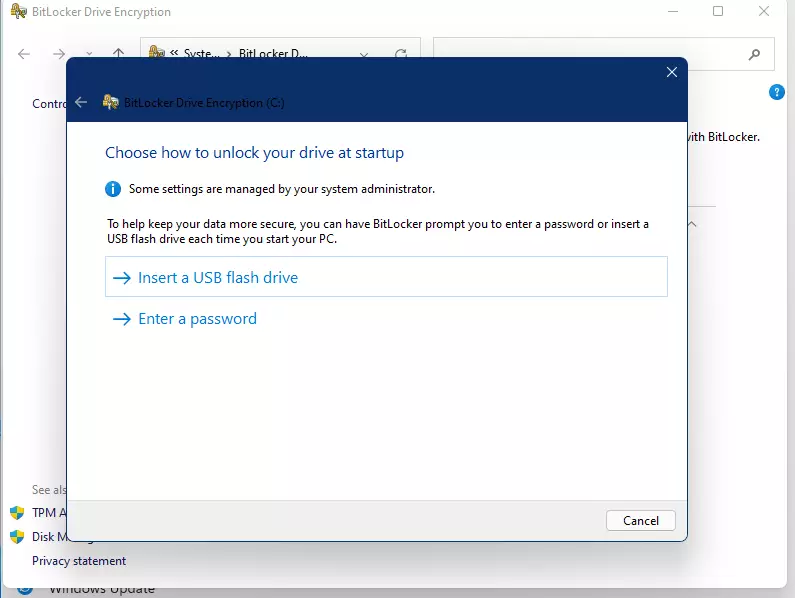 Insert and select the drive to save the key and continue.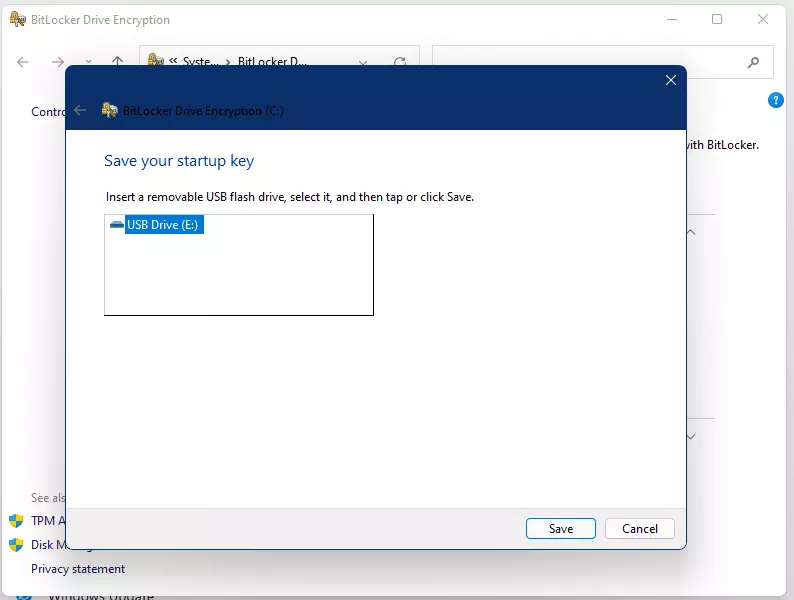 You'll also be asked to save a recovered key someplace. This recovery key is important to restore your machine, so make sure to print, and save it online or somewhere secure.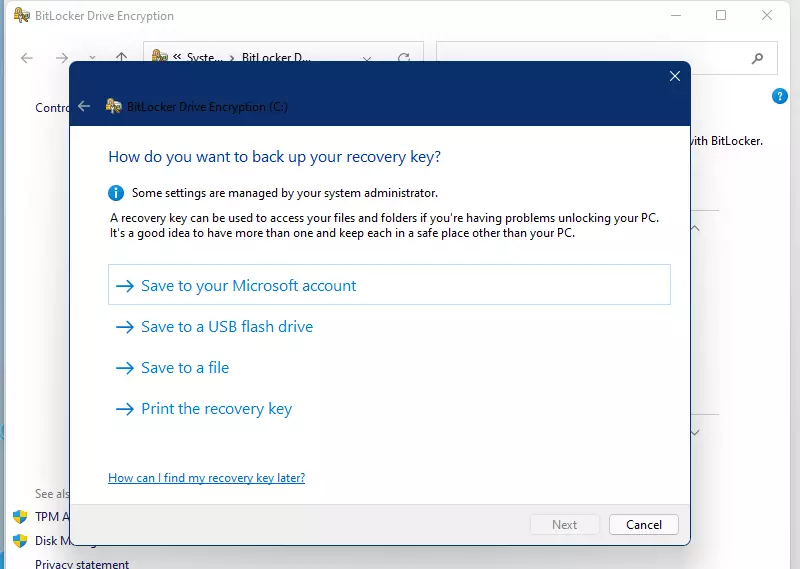 Finally, encrypt the entire drive.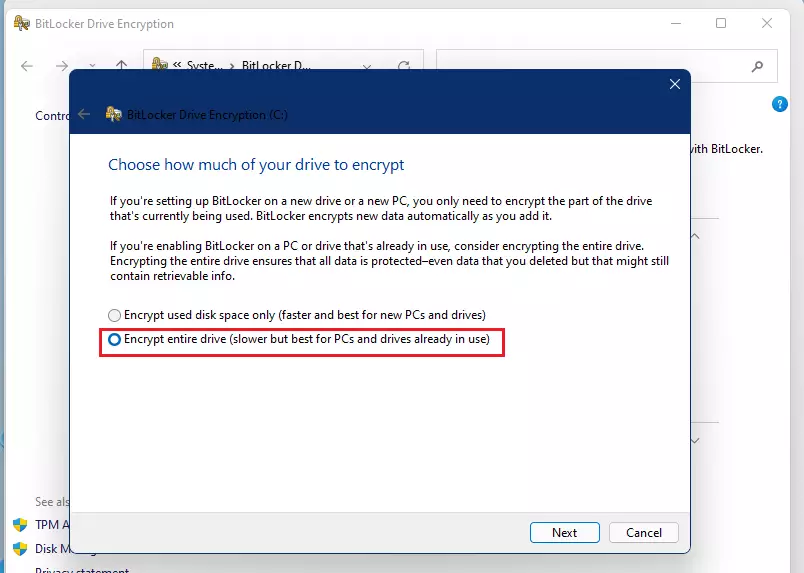 Complete the wizard and you're done.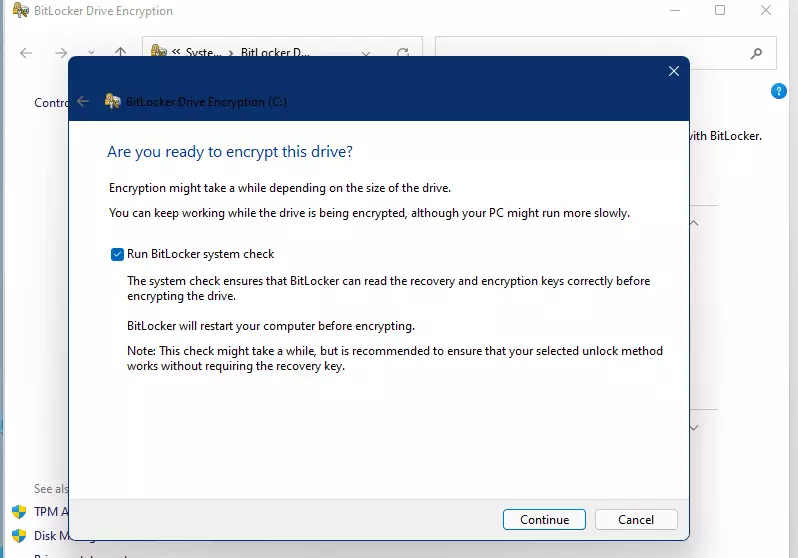 When your PC boots, you'll have to either enter the password or insert the USB flash drive you provided. If you can't provide the password or USB drive, BitLocker won't be able to decrypt your drive and you won't boot into your Windows system and access your files.
Note: It isn't available on Windows 10 Home edition.
Conclusion:
This post showed you how to turn on BitLocker on Windows 11 computers. If you find any error above, please use the form below to report.