This post shows students and new users steps to enable TPM 2.0 (Trusted Platform Module) so that their PC is compatible with installing and run Windows 11, and is also able to download and install all Windows updates
Microsoft puts some basic requirements to install or upgrade to Windows 11. One of these requirements is to have TPM 2.0 enabled in your system UEFI/BIOS.
If your system's motherboard supports TPM 2.0 but it's not enabled, you need to go through the UEFI/BIOS setup and enable it so that you can install or upgrade to Windows 11 and continue receiving updates and supports from Microsoft.
TPM is a security technology that increases the system's security against software vulnerabilities. TPM allows for use of these Windows features, including BitLocker Drive Encryption, Data Execution Prevention, Windows Hello, Secure Boot, and Measured Boot, etc.
TPM version 2.0 chip is installed on the systems' motherboard, which provides higher security standards and better reliability than the original TPM version and is also compatible with CPUs that support version 2.0.
With TPM 2.0 enabled, passwords, certificates, or encryption keys stored on the chip will prevent access to these sensitive data from hackers' malicious programs, and that's why it's good to have it enabled.
Below we'll show you how to find out if your PC is TPM 2.0 compatible and/or how to enable it if not.
How to verify if PC supports TPM 2.0
As mentioned above, one of Windows 11 requirements is to have TPM 2.0 enabled and CPUs that support it. The easiest way to find out if your PC supports TPM 2.0 is to run the Windows 11 PC Health Check app.
The app will tell you if your PC is compatible and/or have TPM 2.0 enabled.
If you have an AMD Ryzen 2000 CPU or newer, or an Intel 8000-series CPU or newer, then you almost certainly have a processor that supports TMP 2.0 module. If your CPU supports it, your motherboard will most certainly have it.
If unsure of your PC TPM status, follow the steps below.
Click on the Start button, then search for and select tpm.msc under Best match, as shown in the image below.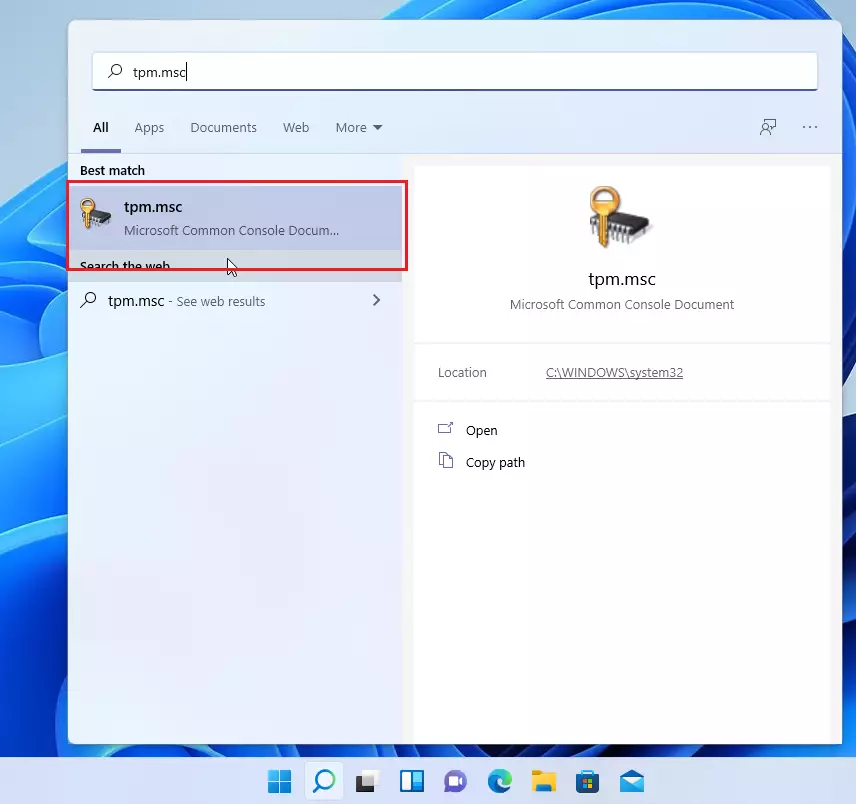 Click the app to open. Once opened, the Status section will display that The TPM is ready for use. For Windows 11 the version under TPM Manufacturer information needs to be 2.0.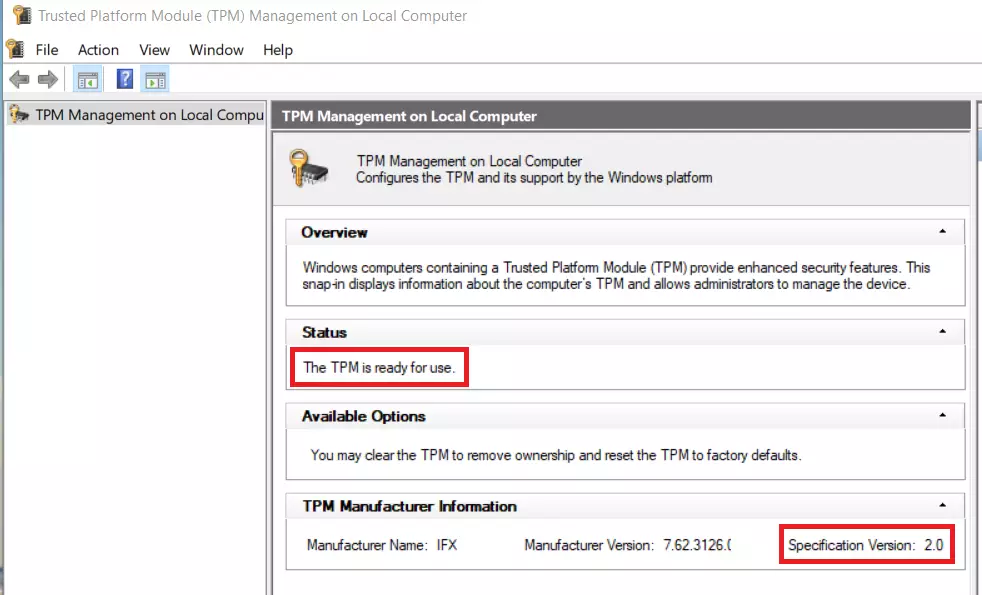 This is how to find out PC support for TPM 2.0.
How to enable TPM 2.0
If you followed the steps above and discovered TPM 2.0 isn't enabled, then run the steps below to enable it for your PC.
TPM needs to be enabled in the system's motherboard. To do this, reboot or start your PC, and enter the UEFI/BIOS using your motherboard key combination to enter its UEFI/BIOS setup.
TPM settings should be located in the Security or Advanced tab for most systems. Once you find the setting, toggle to enable, then save your changes and exit.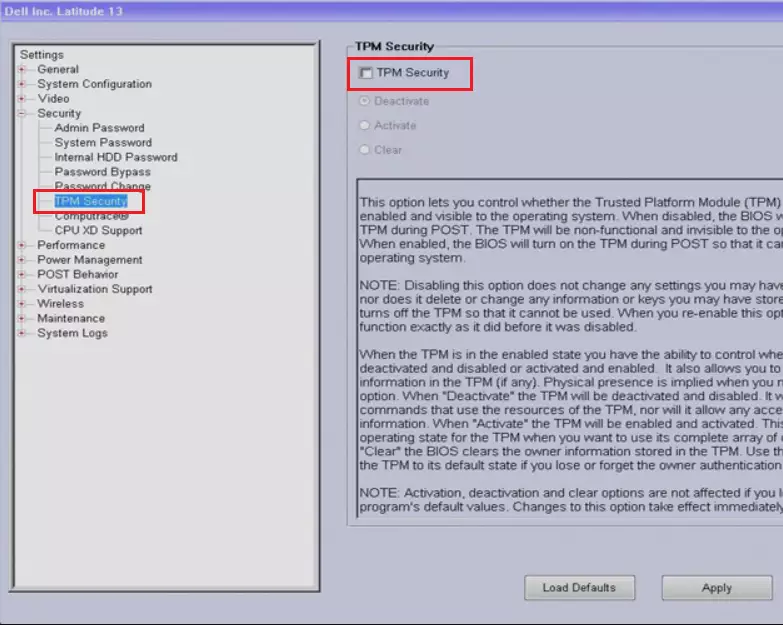 With TPM 2.0 enabled, you should be able to continue with installing or upgrading to Windows 11, if all other requirements are met. Alternatively, press Windows key + I to get to the Settings settings app, then select Update & Security > Windows Security > Device Security. Under the Security processor, confirm its Specification version is 2.0.
That should do it!
Conclusion:
This post showed you how to enable TPM 2.0 in Windows 11. Please use the comment form below if you find any errors or have something to add.