The article provides a guide on using the new Outlook app on Windows 11 to write, reply, and forward emails in a separate window. The modern, feature-rich Outlook supports accounts like Microsoft 365, Outlook.com, Hotmail, and Gmail. Features include email signatures, automatic replies, email sorting, and more. The tutorial explains that using a separate window for emails allows better focus, easier referencing, and safeguards against accidental loss of content. The process to enable this involves adjusting settings in the 'Compose and reply' section of the app.
This article explains how to write, reply, and forward a message in a pop-out window with the new Outlook app in Windows 11.
The new Outlook for Windows brings the latest features and a modern and simplified design with support for Exchange-backed Microsoft 365 work or school, Outlook.com, Hotmail, and Gmail accounts.
The app has many features, including support for email signatures, external email accounts, setting out-of-office automatic replies, email sorting, subscription management, email forwarding, setting default From address, backing up your mailbox, changing the reading pane, and more.
By default, when you write, reply, and forward a message, it is inline in the same windows in Outlook. There's a setting that you can turn on to perform these actions in a new window.
Writing a message in a separate window in Outlook can be useful for several reasons. First, it lets you focus on composing your message without distractions from your inbox or other emails. It provides more space and a larger composing area, making viewing and editing your message easier.
Additionally, if you need to refer to other emails or information while composing your message, having a separate window can make switching back and forth between windows easier.
Finally, it can also help prevent losing your message if you accidentally close the main Outlook window while composing it.
Write, reply, and forward a message in a new window in Outlook
As mentioned above, you can turn on a setting in the new Outlook app to write, reply, and forward a new message in a new pop-out window.
Here's how to do that.
First, open the new Outlook app on Windows 11.
You can do that by clicking Start -> All app -> Outlook app. Or use the Start menu search box to search for Outlook and open it.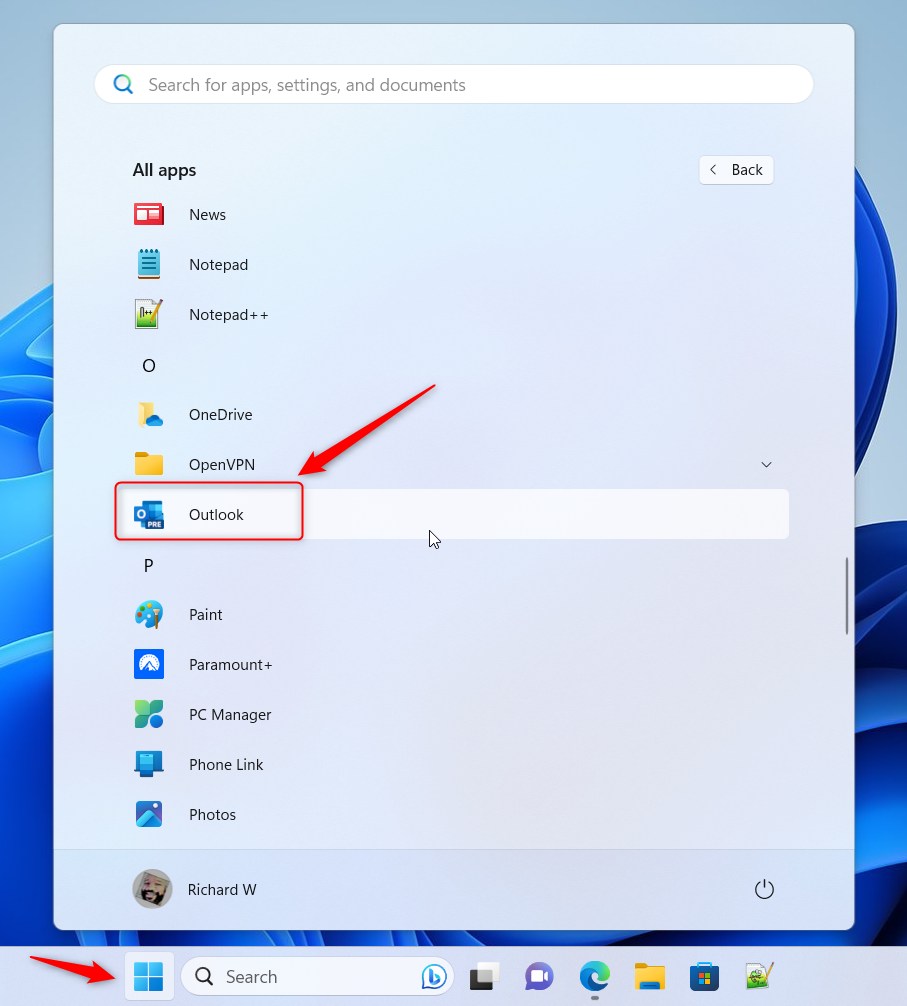 When the app opens, click the Settings button (gear on the top right) to proceed.
On the Settings page, click the Mail tab on the left sidebar and select Compose and reply on the right.
Next, select the email account you want to apply message format settings if you have multiple accounts in Outlook.
This is an account-level setting that will apply only to the selected account. Please do this for each account you want it to apply.
On the Layout setting page, scroll down to the Pop-out settings section. Choose one of the options available:
Write inline – Inline the message in the same window
Pop-out to a new window – Open a new separate window.
Make your selection and save your changes.
That should do it!
Conclusion:
This post showed you how to write, reply, and forward messages in a new window in Outlook. If you find any errors above or have something to add, please use the comments form below.