The article details how to refresh Copilot prompts on Windows 11 using the new Bing Chat AI-powered Copilot experience. A new Copilot button is added to devices running Windows 11 build 23493 or later, which can be accessed via the taskbar or a shortcut (Windows key + C). This button allows users to interact with the chatbot and adjust various system settings. The article provides a guide on how to refresh Copilot on demand, enabling users to start new conversations with the chatbot.
This article explains how to refresh Copilot prompts in the side pane on Windows 11.
Starting with Windows 11 build 23493, Microsoft rolled out the new Copilot experience that works with Bing Chat AI, allowing users to interact with the chatbot using natural language to change system settings and work across multiple applications.
For computers that have Copilot added, a new Copilot button will appear on the Taskbar. It will appear as a flyout interface when you press the button or use the keyboard shortcut (Windows key + C).
When Copilot is available on your device, you can pin or unpin the side pane, open Copilot when Windows starts, Turn Copilot on or off, enable or disable Copilot using content from Edge, and more.
You can also refresh Copilot on demand to reload Copilot and start over conversations.
Refreshing Copilot in the side pane on Windows can be helpful if you encounter any chatbot issues or want to start over your conversation with it. You can reload the chatbot and start a new session by refreshing Copilot. This can be done on demand, allowing you to have a fresh start with Copilot whenever you need it.
Refresh and reload Copilot on the side pane
As mentioned above, you can refresh Copilot to start a new session whenever necessary. You can do this from the Copilot side pane.
Here's how to do it.
First, open the Windows Copilot or press the keyboard shortcut (Win+C).
When the Copilot side panel opens, click the refresh button at the top. Alternatively, click the More options (three dots) button at the top of the Copilot pane, then select Refresh.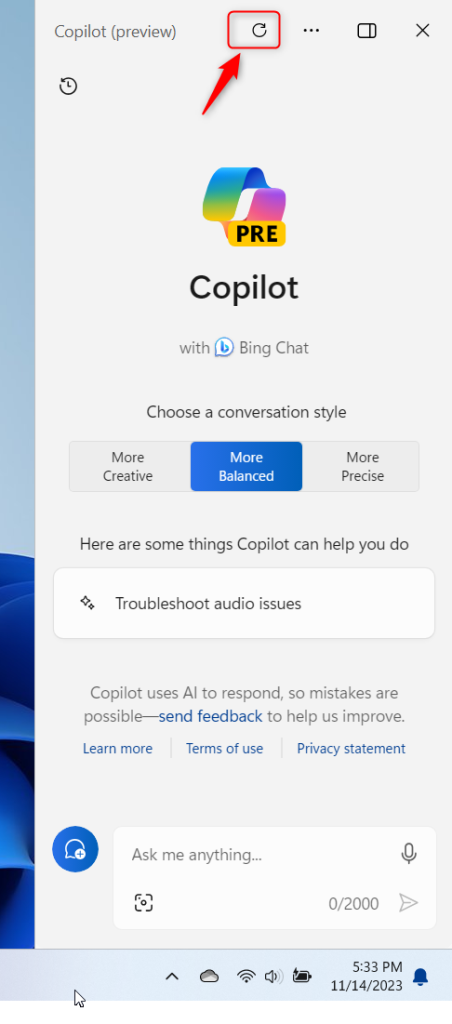 That should do it!
Conclusion:
This post showed you how to refresh the Copilot prompt on the side pane in Windows 11. Please use the comments form below if you find errors or have something to add.