This post shows students and new users how to make a user administrator in Windows 11 to be able to run tasks and make changes that only members of the administrators group can do.
The just released preview of Windows 11 comes with a new user desktop, including centered Start menu and taskbar, rounded corners windows, themes and colors that will make any Windows look and feel modern.
The new Windows 11 also comes with these legacy account types. There are two types of accounts on Windows 11: Standard and Administrator accounts.
When you create a new user account in Windows 11, the user does not automatically become administrator. The account you create will be a standard account with limited rights to do or change any critical settings on the computer, including installing and removing programs.
The administrator account has full control of the files, directories, services, and other resources on the local computer. Practically, the administrator account has full control of everything on the system.
So, you you want a user to have the same rights at the system administrator, you'll need to change the user account type from Standard with limited rights to Administrator with full rights.
Also, when you're a student and new user and you want to learn how to use Windows, the easiest place to start is Windows 11. Windows 11 is a major release of the Windows NT operating system developed by Microsoft. Windows 11 is the successor to Windows 10 and it's expected to be released later this year.
To get started with changing a standard user to administrator, follow the steps below:
Change Standard to Administrator in Windows 11
As mentioned above, you can create two types of accounts in Windows 11. A standard user account and administrator account. You typically create a standard account, then change the account type from Standard to Administrator.
To do that, use the steps below.
Windows 11 has a centralized location for majority of its settings. From system configurations to creating new users and updating Windows, all can be done from its System Settings pane.
To get to System Settings, you can use the Windows key + i shortcut or click on Start ==> Settings as shown in the image below: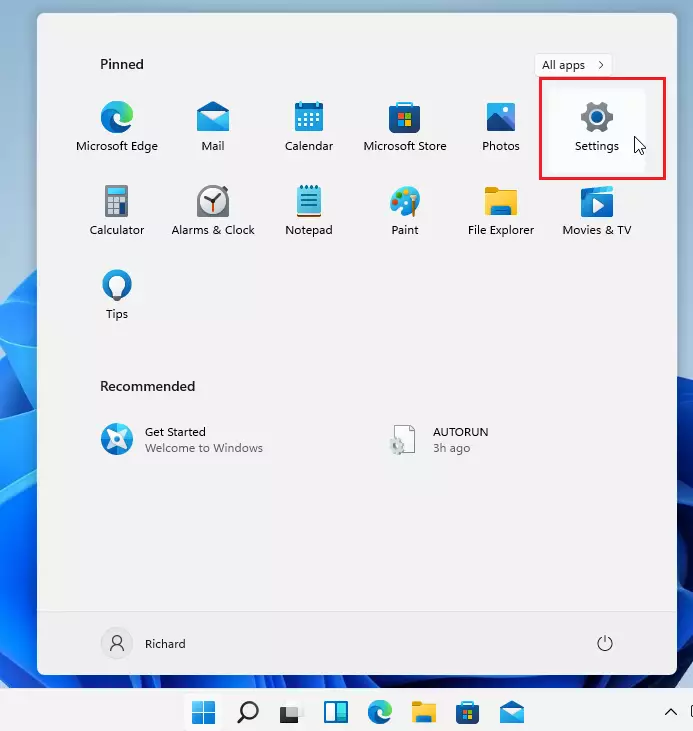 Alternatively, you can use the search box on the taskbar and search for Settings. Then select to open it.
Windows Settings pane should look similar to the image below. In Windows Settings, click Accounts, select Family & other users on the right pane of your screen shown in the image below.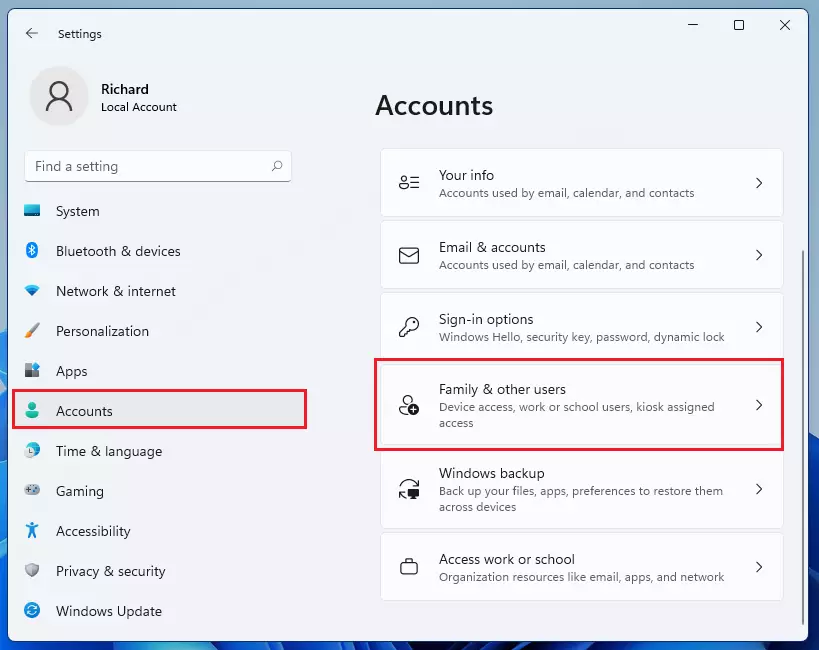 On the Family & other users settings pane, scroll down to Other users as highlighted below. Then select and expand the account you want to make an administrator.
Click Change account type button as shown below.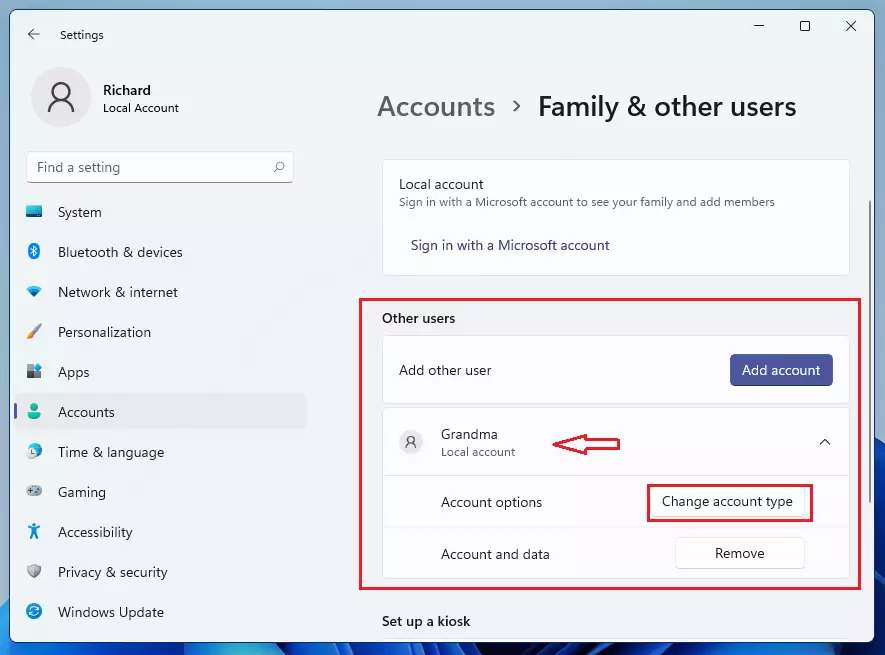 That will open another settings pane. There, change the account type from Standard to Administrator as shown below. Click OK to save your changes.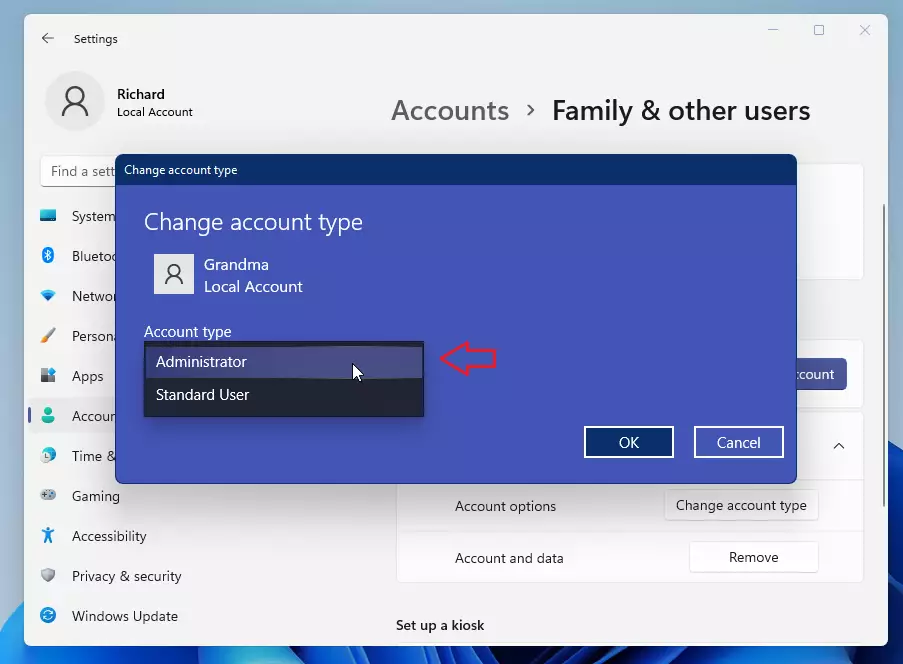 The account should now be an administrator.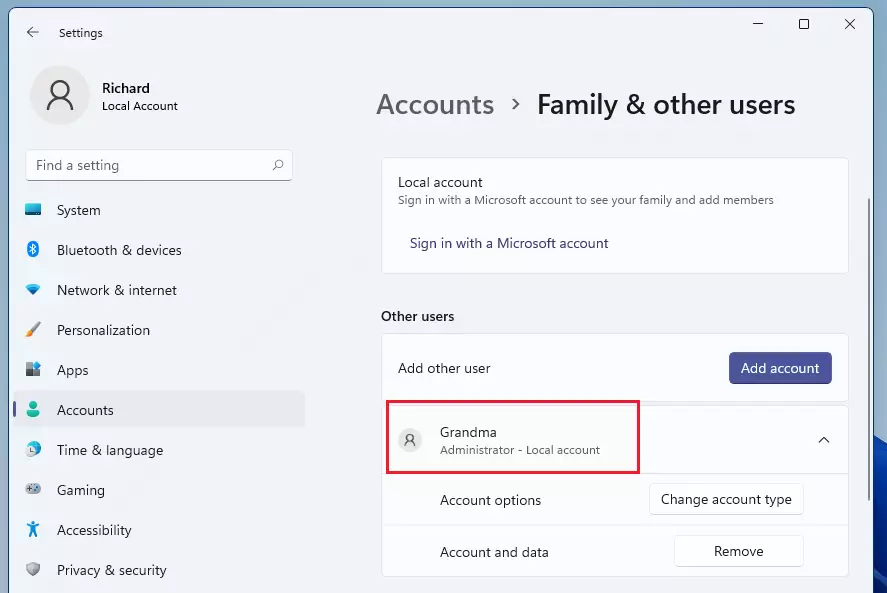 That should do it!
If you want to take away administrator rights from user accounts, reverse the steps above and switch the user back to standard user type.
Conclusion:
This post showed you how to change a standard user account to administrator. If you find any error above, please use the comment form below to report.