This post shows students and new users how to disable or turn off Windows 11 location service to prevent apps from accessing your device location.
For some apps to function properly, they need to know where you're located and where you're connecting from. Windows location service is a feature that enables certain Windows features such as auto-setting the time zone or Find my device or other apps to discover your device location information.
The new Windows 11, when available to everyone, will come with many new features and enhancements that will work great for some while adding some learning challenges for others. Some things and settings have changed so much that folks will have to learn new ways to learn manage Windows.
One legacy feature that's also in Windows 11 is location service. Windows location service tells your apps and services where you are or where you've been, so that you can get info more relevant to you. This can be good for some user, but for others it raise some privacy issues.
If you feel that location service in Windows 11 is evading your privacy, you can turn it of for all apps to prevent accessing location. The steps below show you how to do that.
Also, if you're a student or new user and you want to learn how to use Windows, the easiest place to start is Windows 11. Windows 11 is a major release of the Windows NT operating system developed by Microsoft. Windows 11 is the successor to Windows 10 and it's expected to be released later this year.
To get started with disabling location services in Windows 11, follow the steps below
How to turn off location service in Windows 11
Windows 11 has a centralized location for majority of its settings. From system configurations to creating new users and updating Windows, all can be done from its System Settings pane.
To get to System Settings, you can use the Windows key + i shortcut or click on Start ==> Settings as shown in the image below: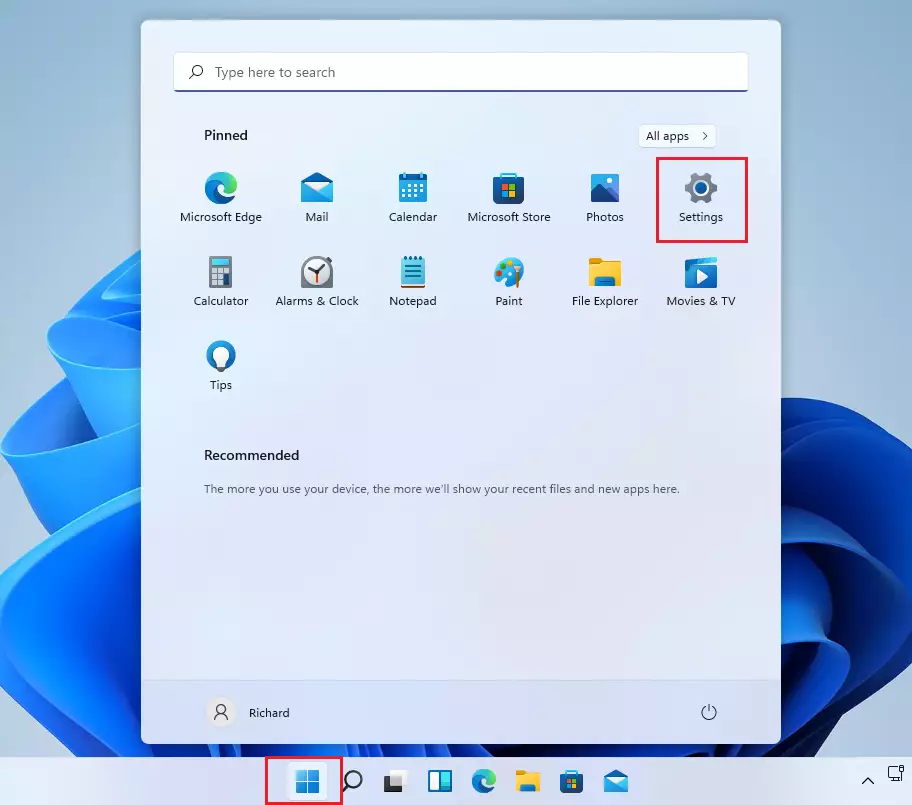 Alternatively, you can use the search box on the taskbar and search for Settings. Then select to open it.
Windows Settings pane should look similar to the image below. In Windows Settings, click Privacy & security, select Location on the right pane of your screen shown in the image below.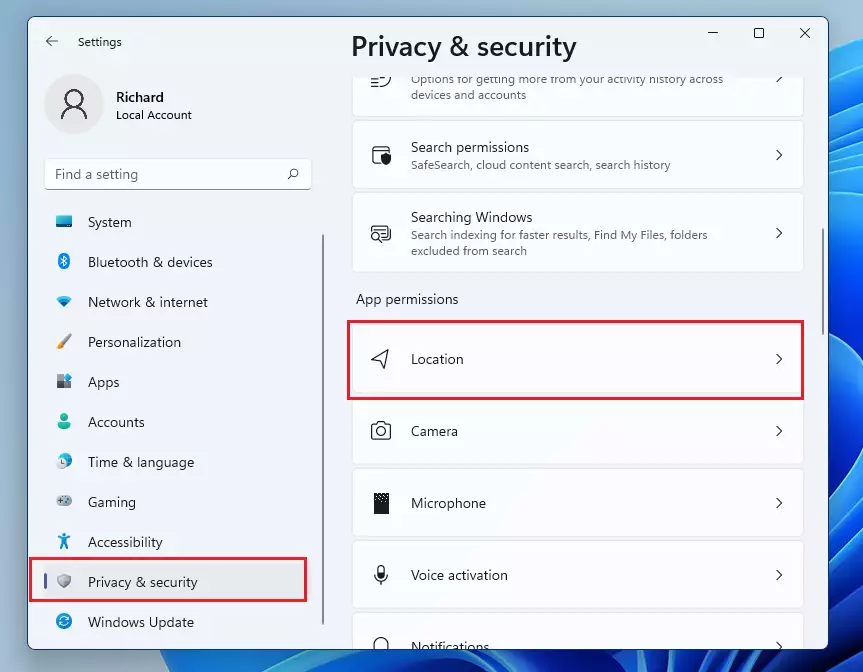 On the Location settings pane, toggle the button to the Off position in the highlighted section to disable Location services. Windows can use your device's capabilities to determine your location.
Turning it off here will disable location service in Windows and turn block access to all apps from accessing your device's location.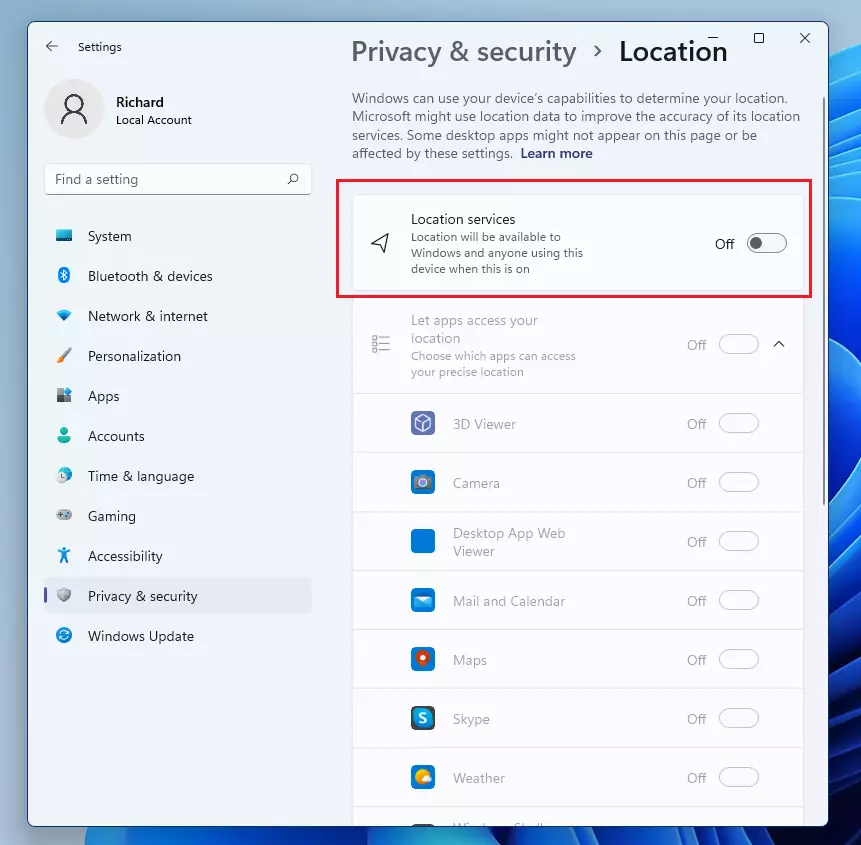 Alternatively, you can enable Location services for Windows OS to use your devices' capabilities and provide useful information like weather information or find my device, but turn off for all other apps.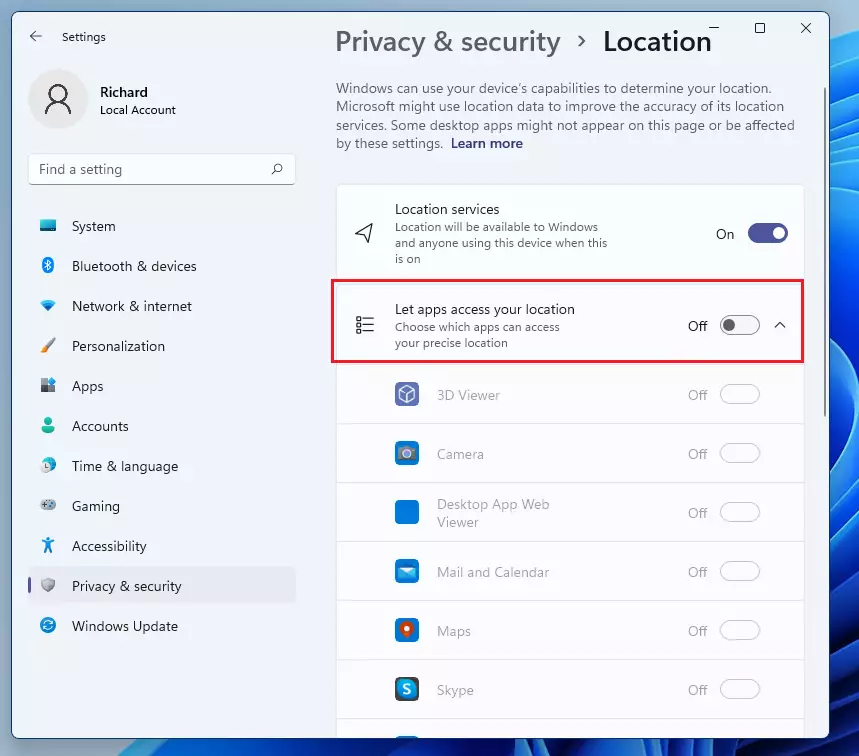 You can also turn apps location service on, and turn off for individual apps on the list.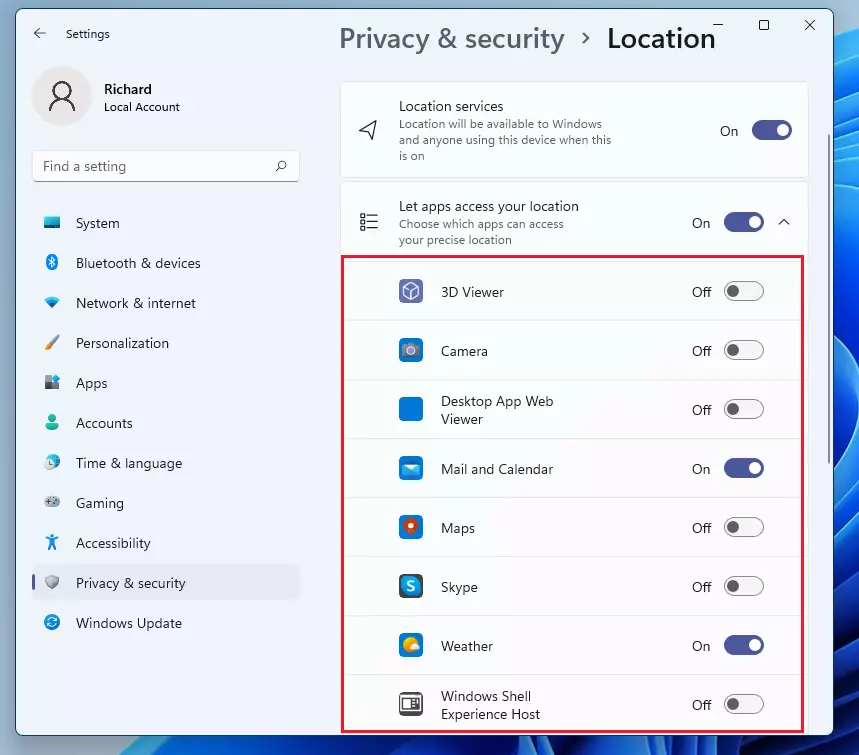 How to Enable Location service in Windows 11
If Location service is disabled in Widows and you want to use it because you're not getting weather information or find my device isn't working, reverse the steps above.
Go to Start => Settings ==> Privacy & security ==> Location and turn on Location service.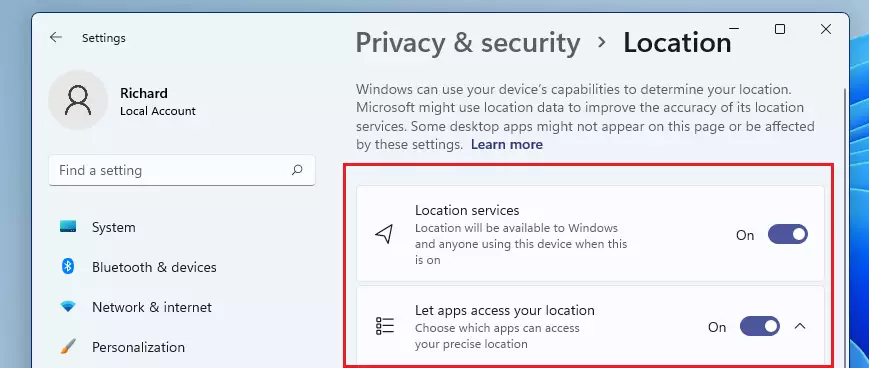 That should do it!
Conclusion:
This post showed you how to enable or disable device location service in Windows 11. If you find any error above, please use the comment form below to report.