This post shows students and new users how to use and set alarms and timers in Windows 11.
Windows 11 comes with a built-in app called Alarms and Clock. You can use this app to set an alarm, use timers and more. With Windows alarms, you configure, set and forget it and it should help you sleep better and wake up rested similar to your devices.
Windows alarms is good in some occasions. Alarms and timers work even if the app is closed or your device is locked. However, if your device goes to sleep, Windows alarms won't notify you.
There are something to remember when using Windows alarms. First, you should make sure you device isn't going to sleep. Keep your laptop or tablet plugged in and make sure the volume on your device is high enough to hear the alarm or timer.
For student or new user looking for a Windows computer to use, the easiest place to start is Windows 11. Windows 11 is a major release of the Windows NT operating system developed by Microsoft. Windows 11 is the successor to Windows 10 and it's expected to be released later this year.
To get starting with setting alarms and timer in Windows 11, follow the steps below:
Set alarms in Windows 11
To set alarms in Windows 11, use Windows search feature and search for Alarms & Timer app as shown in the image below.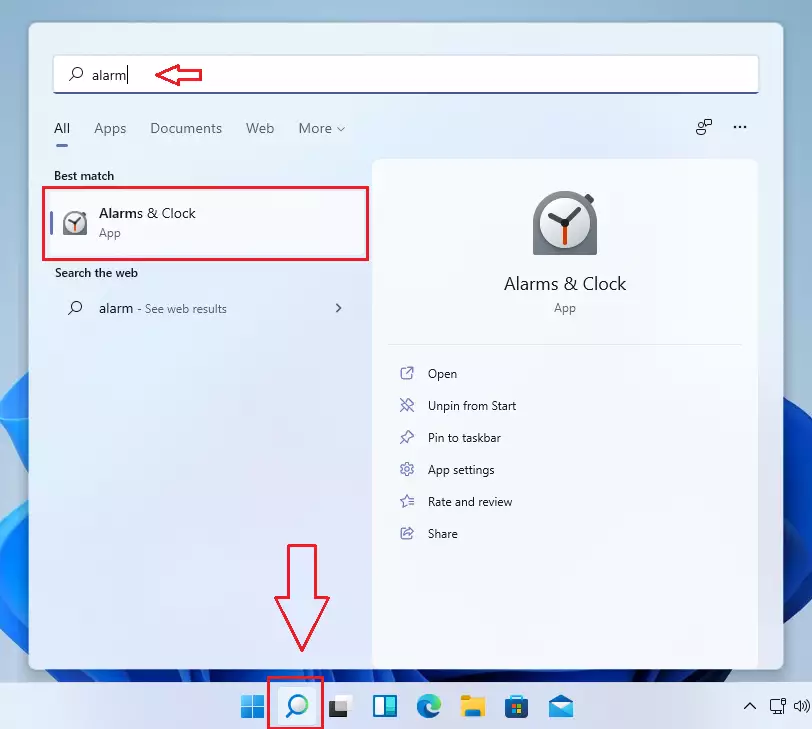 When the app opens, you'll see at message that Notifications will only show if the PC is awake.
Before you set an alarm, make sure you PC isn't going to sleep when idle. For help setting up your PC not to go to sleep, read this post here.
When you're done, come back and set your alarms.
When Alarms & Clock app opens, select the menu at the top left and choose Alarm.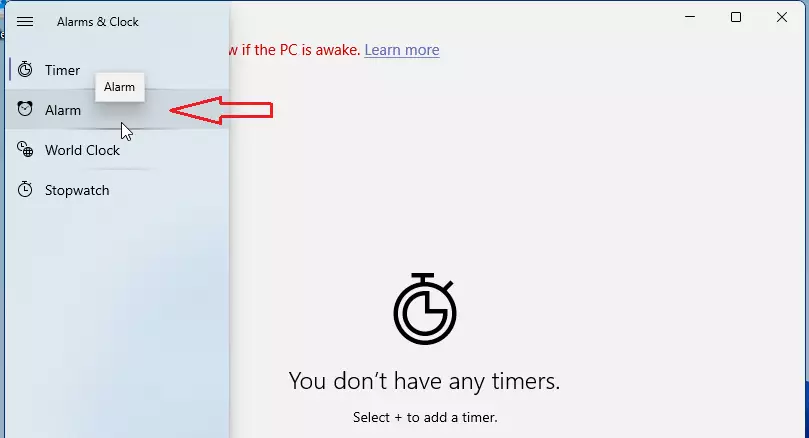 Once you select Alarm, a new alarm default preview option should appear on the right with time starting at 7 AM. Click anywhere on the alarm box to edit the alarm.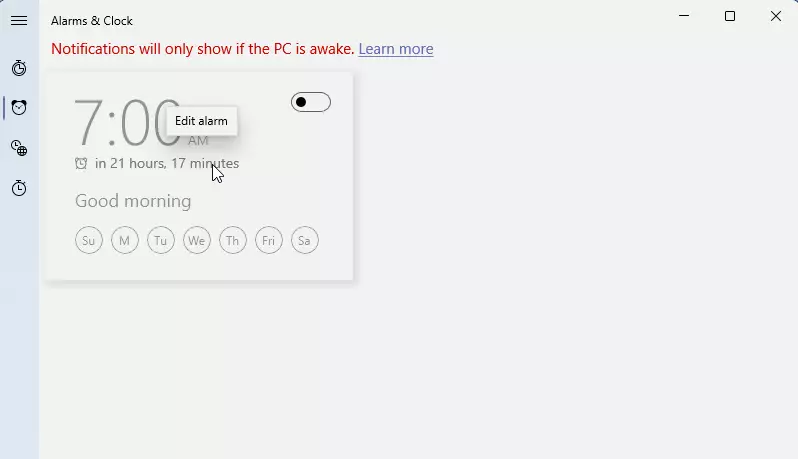 When the edit alarm settings open, begin setting time for the alarm to turn. You can change the alarm time by clicking on the down or up arrows for the hour, minute and AM|PM sections.
Or simply type in the number value to represent the hours and minutes.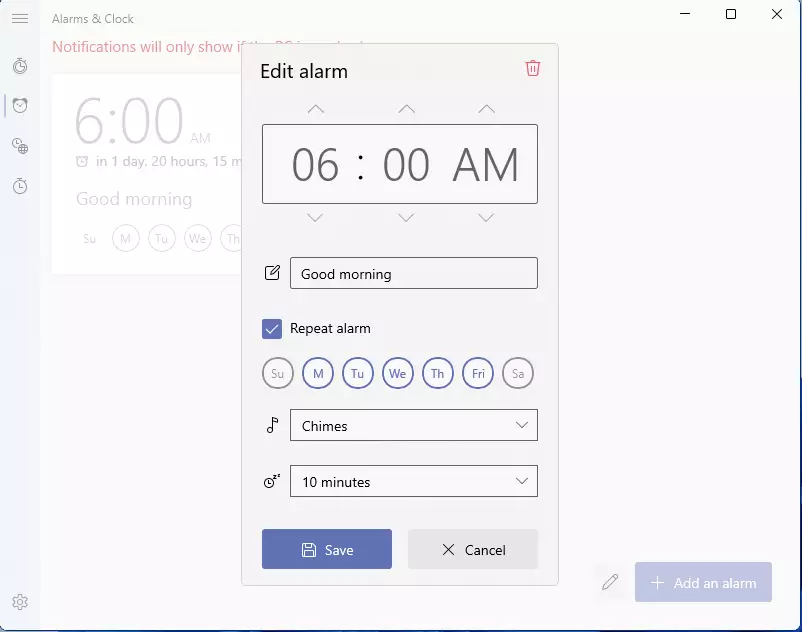 You can also type a unique name for this alarm box by renaming it.
By default, all the days are selected. Unselect days you don't want the alarm to go off. The example below unselected Saturday and Sunday for the alarm to be disabled on these days.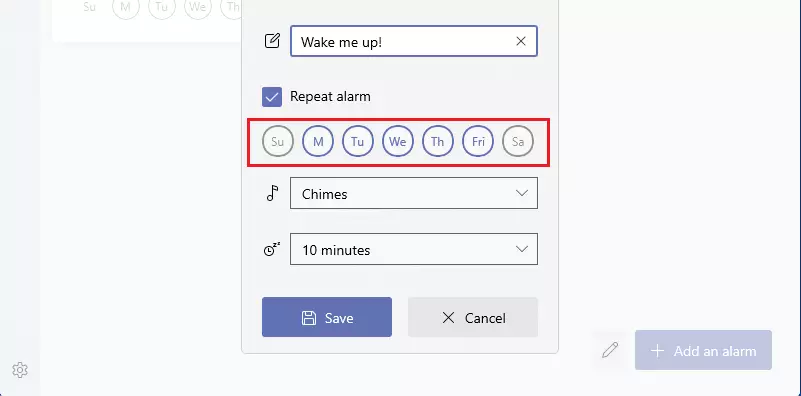 The Repeat alarm option make sure the alarm will ways run until manually stopped or disabled.
When you're done changing the alarm settings, click the Save button to save your changes. The alarm will automatically turn on when you save your changes.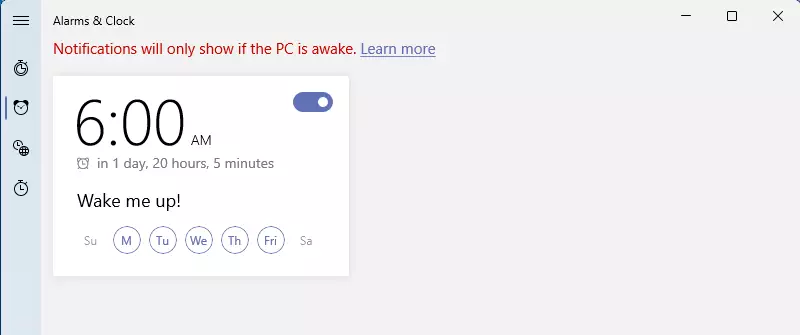 Disable Windows 11 alarms
If you don't want the alarm to run just yet, you can toggle the on button to off and disable the alarm. When the alarm is disabled, it should look like the image below.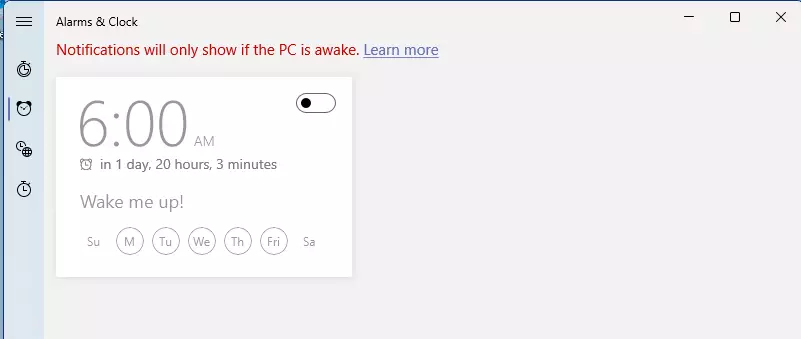 Delete Windows 11 alarms
If you want to complete delete an alarm time, select click into the alarm previous box to edit. Then click on the trash bin icon at the top right.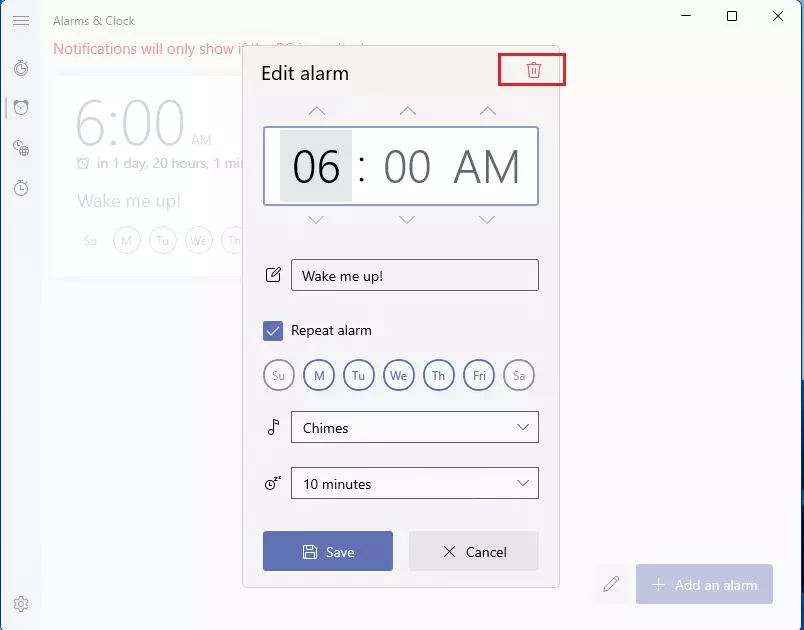 That should delete the alarm in Windows.
Conclusion:
This post showed you how to set alarms in Windows 11. If you find any error above, please use the comment box below to report.