With Ubuntu 19.04 (Disco Dingo) released, a few students and new users have found that some videos and flash-based content are not playing in the just-released Ubuntu 19.04.
Flash is a plugin for your web browser that allows you to watch videos and use interactive web pages on some websites. While HTML5, a more modern solution, is increasingly offered, some websites still won't work without Flash.
If you do not have Flash installed, you will probably see a message telling you so when you visit a website that needs it. Flash is available as a free (but not open-source) download for most web browsers.
For students and new users using Google Chrome, installing the Adobe Flash plugin is not necessary. Instead, Chrome comes with its own bundled NPAPI version of the Flash plugin.
However, Firefox and others based on Firefox may handle flash content out of the box.
Although the NPAPI version of flash comes with Chrome, the PPAPI version isn't installed. To install the PPAPI version supported by other browsers, follow the steps below:
Enable Canonical Partners Repository
The latest flash plugin lives in the Canonical Partners' repository and is disabled by default. You must enable this repository before attempting to install the flash plugin.
To do that, open the command line terminal and run the commands below.
sudo add-apt-repository "deb http://archive.canonical.com/ $(lsb_release -sc) partner"
Installing Adobe Flash Plugin
After enabling the partner's repository, run the commands below to install the Adobe Flash plugin.
sudo apt update
sudo apt install adobe-flashplugin browser-plugin-freshplayer-pepperflash

After installing, restart Firefox, Chromium, or any other web browser before using the flash plugin. To make some changes to the plugin, click the Activities from the top left corner, then on the Activities Overview, search for Adobe Flash Player.

Make sure to enable Adobe Flash Player on the Storage page to save information on the computer. Closeout and test.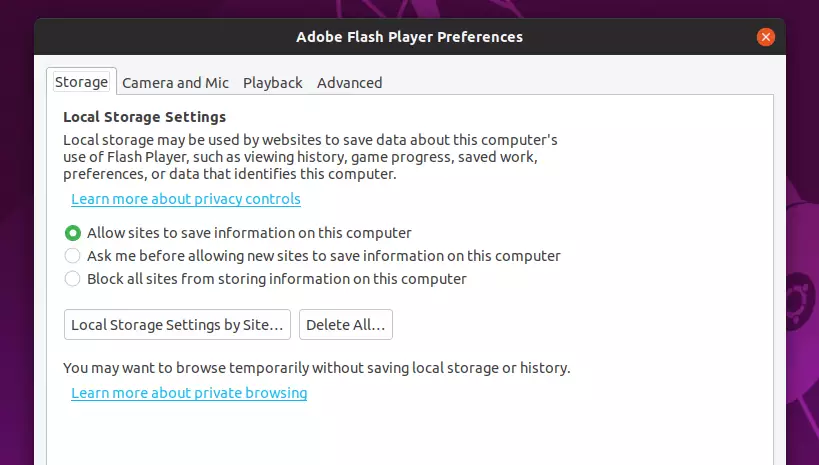 You can also configure more advanced settings for local storage, control your privacy, delete temporary files and data, and more.
Install and Enable DVD Codecs
Alternatively, you can use the unlicensed decoder for Linux, but they are not permitted by law in most countries. So using it may not be legal. Ubuntu allows you to install these codecs and use them, but you're doing it at your own risk.
To install the unlicensed decoder available on Ubuntu, run the commands below.
sudo apt install libdvdnav4 libdvdread4 gstreamer1.0-plugins-bad gstreamer1.0-plugins-ugly libdvd-pkg
sudo apt install ubuntu-restricted-extras
During the installation, you may be prompted to accept some licensing agreement.
┌────────────────────────┤ Configuring libdvd-pkg ├─────────────────────────┐
 │                                                                           │ 
 │                                                                           │ 
 │                                                                           │ 
 │ This package automates the process of launching downloads of the source   │ 
 │ files for libdvdcss2 from videolan.org, compiling them, and installing    │ 
 │ the binary packages (libdvdcss2 libdvdcss-dev).                           │ 
 │                                                                           │ 
 │ Please run "sudo dpkg-reconfigure libdvd-pkg" to launch this process for  │ 
 │ the first time.                                                           │ 
 │                                                                           │ 
 │                                 

 <Ok>


 │                                                                           │ 
 └───────────────────────────────────────────────────────────────────────────┘ 

Confirm to install libdvdcss2
After that, you should be able to play flash-based videos and watch DVDs on your Ubuntu desktop.
Congratulations! You've successfully installed Adobe Flash Plugin and enabled DVD codes on Ubuntu 19.04
You may also like the post below: