This brief tutorial shows student and new users how to change Windows computer name when using Windows 10.
Students in computer classes may come across assignments or homework that ask to change a Windows computer name in a lab session. Well, this brief tutorial is going to show you how to do just that.
This single guide we're writing can be applied to Windows 7, 8 and 10 and maybe upcoming editions. They all handle this the same way.
If you're currently using a Windows computer, then it already has a new. When you purchase a new computer, some of the first things you do are to create a username, computer name and maybe a password before you can login.
I work in IT and there are still some people who find it difficult to change Windows computer names, especially after Windows 8, 8.1 and 10 were released with new desktop environments.
Changing Windows PC Name
To quickly change your Windows computer name, press Windows Logo Key + R on your keyboard. (The Windows key is the one left of your spacebar with Windows logo)
When you press those two keys, Windows Run dialog box will appear. In the box, type this command and press the Enter key.
sysdm.cpl
When you press Enter, the System Properties dialog box will appear. On this dialog windows, you can change your computer and and perform other tasks, such as enabling remote connection to your computer, create a restore point for your computer and others tasks.
To change your computer name, click the Change button as shown below.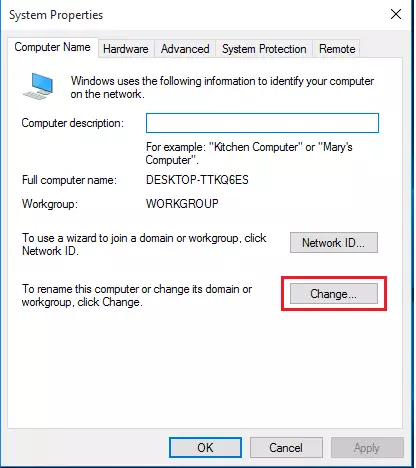 Doing that will bring up yet another dialog box where you will type in the new computer name you want to use.
All you have to do is replace the name in the Computer name field with the new name and select OK. This will save the changes but prompt you to restart the computer for the changes to apply.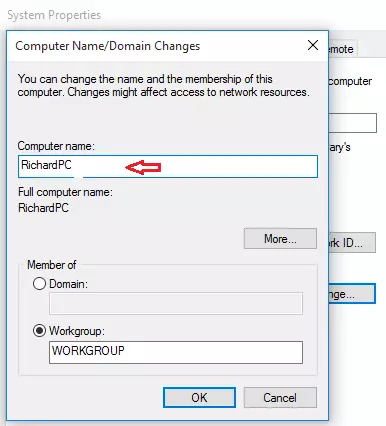 After you restart your computer, your computer will be referenced by the name new, and this is how one changes Windows PC name.
This tutorial can also be used if you want to change Windows Workgroup or Domain membership.
That's it! I hope this helps with your assignment.
You may also like the tutorial below:
Enjoy!